Altar Rosary Society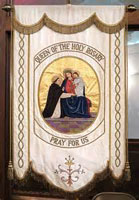 The Altar Rosary Society is dedicated to promoting devotion to the Blessed Mother.
Our Rosary meetings will begin once again on the third Wednesday of the month starting in September at 1:00pm. Coffee and cake will be served prior to the start of the meeting.
We will have a Communion Breakfast on the first Sunday of the month starting in October at 10:00am, at the Clarion Restaurant. Tickets will be available at the September meeting.
For more information our the Altar Rosary Society please contact our President is Jean Hanna at 732-473-9455
+ +
The Altar Rosary Society is planning a trip to The Shrine of Our Lady of Czestochowa, Doylestown, Pa. in June.
For information and tickets call: Josephine Roeder (732) 349-9379
---
Legion of Mary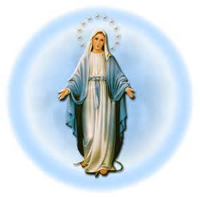 The Legion of Mary is a group of men and women who come together to serve God under the banner of the Blessed Virgin Mary by practicing the Corporal and Spiritual Works of Mercy.
Some of our Legion works include visitation for the homebound while praying the Rosary together. Also, we offer to bring the pilgrim statue of the Blessed Mother to stay in your home for a week.
If you our anyone you know would be interested in joining this ministry, please call us. You are welcome to come by and visit us during a meeting.
Our meetings take place on Mondays from 9:30 am to 11:00 am.
If you are sick or homebound and would like to say the Rosary with someone, kindly call:
Nancy Gallo (848) 480-2071
---
Knights of Columbus Saint Maximilian Kolbe Council 10899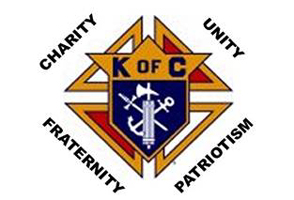 The Knights of Columbus was founded in 1882 by Venerable Michael J. McGivney, a Parish Priest, in the basement of Saint Mary's Church, in New Haven Ct. From that humble beginning, the Knights of Columbus has grown to 1.9 million members in 15 Countries.
The first principle of our Order is Charity. In 2014, the members of the Knights of Columbus and their families, through their hard work and efforts, are "Building a Better World One Council at a Time!" Highlights include:
- Raised and donated $185.6 Million to charitable causes
- Donated over 75 Million hours to Charity; their Church; their Community; and the World.
- Through the Christian Relief Fund, sent over $3 Million to assist Christians in Syria & Iraq
- Assisting in building 20 clean water wells in Africa
When the Knights of Columbus was founded it was a tough time for Catholics in America - especially Irish Catholics. Those men who could find work were treated poorly and literally worked to death, leaving their family penniless and destitute. It was Father McGivney's dream to protect the widows and orphans of fallen members. To protect families against such financial tragedy, Father McGivney established an insurance program, by Brother Knights, for Brother Knights and their families.
The Insurance Agency of the Knights of Columbus has grown to over $99 Billion of insurance in force with over $22 Billion in Assets under management.
For the 5th consecutive year, the Knights of Columbus has been named as one of The World's Most Ethical Companies by The Ethisphere Institute and has been recognized for the 42nd consecutive year by A.M. Best as having Financial Strength A+ (Superior).
The Knights of Columbus established Saint Maximilian Kolbe Council 10899 on July 1, 2013 with 74 members by the end of its first year. Today the council has 110 members.

The current Grand Knight is Robert Zaratin and he oversees a very active Council.
Current Programs that members of Council 10899 conduct in support of our Church, our Community and our Council include:
- Serve as Eucharistic Ministers in Church and to homebound Parishioners
- Serve as Ushers
- Assist our Pastor in various programs, committees, and the Parish's Annual Anniversary event
- Support our Priests
- Conduct Communion Breakfasts and Lenten Meals
- Honor our deceased members at Memorial Mass
- Donate thousands of dollars to our Parish - St. Maximilian Kolbe
- Raise & donate 100% to God's Special Children organizations
- Raise & donate 100% to Culture of Life organizations
- Raise & donate 100% to Centurions for Christ - a veteran's PTSD spiritual retreat
- Raise & donate to Send a Hero Home program – offers Military Service Personnel (grade E3 and below), stationed in NJ, the ability to receive round-trip travel home for the Holidays
- Participate in the Amber Alert System
- ...and much more...
---
Food Pantry

If you or a loved one is in need of food, please come to the Parish Office to complete an application. Once the application is completed, it is given to our food pantry. The Office will contact you when the food is ready for pickup on Mondays or Fridays.
Knights of Columbus Saint Maximilian Kolbe Columbiettes Auxiliary 10899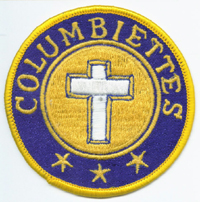 The Knights of Columbus Columbiettes established Saint Maximilian Kolbe Council 10899 Columbiettes Auxiliary at an Installation ceremony on July 26, 2015.
The current President is Patricia Guerin, and the Columbiettes serve the Parish and assist the Council in various programs including:
- Serving as Eucharistic Ministers
- Serving as Lectors
- Serving as Ushers
- Helping with Parish fundraising
- Serving on Parish committees
- Assist Pastor with annual Saint Maximilian Kolbe Anniversary event
- Assist with Communion Breakfasts
- Assist with God's Special Children Drives
- Assist with Culture of Life Drives
- Assist with 40 Days For Life annual campaign
- Assist Council 10899 with many other programs
- ...and much more...
The Columbiettes meet on the 3rd Saturday of each month at 10:00am at Saint Maximilian Kolbe Parish Hall, 130 Saint Maximilian Lane, Toms River.
Catholic Ladies, over age 18, are welcome to join. They do not need to be a spouse of a member of the Knights of Columbus.
For further information please contact Columbiettes
President Patricia Guerin at 732-505-9251.
---

Knights of Columbus 4th Degree Our Lady of Lourdes Assembly 2143
The Knights of Columbus Fourth Degree is the Visible Right Arm of the Church (Saint John Paul II).
When Council 10899 was established on July 1, 2013, the 4th Degree members of the Council were assigned to Our Lady of Lourdes Assembly 2143. Members from Saint Martha Council 7926 in Point Pleasant and Saint Mary's of the Lake Council 11527 in Lakewood also belong to our Assembly.
The 4th Degree is the Patriotic Degree of the Knights of Columbus. Our members participate in many Patriotic and Memorial programs throughout the year. Our current Faithful Navigator is Sir Knight Thomas Kozlowski and he oversees a current roster of 101 Sir Knights.
Our Lady of Lourdes Assembly also has an active Color Corp who serve special occasions including:
- Papal Visit 2015
- Wakes for deceased members
- Funeral Masses
- Installations
- Exemplifications
- and other ceremonies or events as requested.
The Assembly meets on the 3rd Wednesday of the month at Saint Mary's of the Lake Council 11527, 1143 East County Line Road, Lakewood.
Any Third-Degree member is eligible and welcome to join the 4th Degree. Please contact Membership Director Bill Bates at 848/444-3190.
---
Ancient Order of Hibernians Ocean County Division 1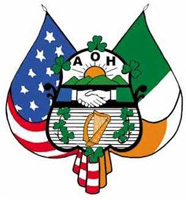 The Ancient Order of Hibernians in America (AOH) is an organization of men dedicated to the principles of Unity, Fraternity, Christian Charity and Love of Country. The AOH supports and defends our Catholic faith and practices. The AOH also works for Peace, Freedom and Equality in all-Ireland and for the preservation of Irish and Irish-American cultures such as music, art, dancing, song, poetry, history, sport, geography, technology, cooking and language. It works to preserve and enhance these goals.

The Ladies AOH, (LAOH) is a separate organization, with similar objectives. It has its own charter, officers and practices. It works with and supports the AOH. (Currently not active.)

The AOH started in the USA in 1836 to assist the ever-growing numbers of Irish immigrants to settle in the new land, and to respond to the U.S. Bishop's requests to protect and defend Catholic churches and clergy from the vandalism of anti-catholic "Know-Nothings".. The AOH was the largest Catholic men's organization in the United States until the growth of the Knights of Columbus in the1890's. That organization was, in turn, started by former AOH leaders in New Haven, CT, guided by Father Michael J. McGivney, an Irish-American priest, at the bishop's request, to assist all new Catholic immigrants. AOH Members must be practicing Catholics.

Some prominent AOH members have included: Rev. Francis Cardinal Spellman, Archbishop of New York, U.S. President John F. Kennedy, Postmaster-General James Farley, and, locally, Brother Tim Ryan, Owner/Manager of Tim Ryan Funerals Association. Brother Michael Hennicke Owner/Manager of Oliverie's Funeral Home.

AOH, Division 1, Ocean County, is located in northern Ocean County. Most of our members live in the Toms River area, and, of these, many are parishioners of Saint Maximillian Kolbe Church;. AOH asks that prospective members have a trace of Irish heritage, however little, or however long ago, and an interest in Irish /Celtic culture: Most could fit these simple criteria from mother, father or grand-parents, or "greats", aunt, etc.

If you do have some Irish Blood, please call the phone number below for an application. Then you can help grow our Irish heritage.

Our meetings are held once per month, every 4th Saturday, at 10:00 AM in the Saint Maximilian Kolbe auditorium.

For further information on membership in the AOH, please contact Jack Clarke, Treasurer: (732) 341-7946.