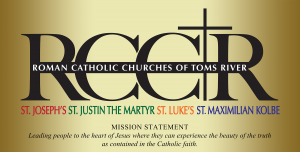 What is RCCTR? Founded in 2015 as part of the "Faith in Our Future" initiative of the Diocese of Trenton, the Roman Catholic Churches of Toms River (RCCTR) is comprised of leaders and clergy from the four Roman Catholic parishes in Toms River: St. Joseph's, St. Justin the Martyr, St. Luke's and St. Maximilian Kolbe. These four parishes serve more than 20,000 registered Catholic families in Toms River, and collaborate to find ways to strengthen our parishes, explore new models of leadership, evangelize, improve Hispanic ministry and expand opportunities for greater efficiency and better stewardship. This collaboration is key to bring greater depth and breadth of services to the community. The mission statement of the RCCTR is, "Leading people to the heart of Jesus where they can experience the beauty of the truth as contained in the Catholic faith."
Visit the websites of the RCCTR – Our Parish of Saint Maximilian Kolbe is part of Cohort 24 in the Diocese of Trenton. Our fellow cohort Parish websites are listed below.
Saint Joseph Parish Saint Justin the Martyr Parish Saint Luke Parish
---
Hello everyone! You might remember a few years ago we announced the formation of RCCTR, the Roman Catholic Churches of Toms River. They are St. Josephs, St. Justins, St. Lukes, and us. Each parish sent their pastor and 4 lay parishioners to meetings held every 2 months or so and those 20 people tried to better our parishes by working together. But then 2020 and Covid hit the scene and meetings were discontinued.
Well, RCCTR is back. We had our first meeting and we will be promoting an addiction recovery program in honor of September being National Recovery Month. Addiction hurts almost every family whether it is a grandchild, a son or daughter, a friend or neighbor, or one of us personally. It could be alcohol, drugs, or even prescription drugs.
The free program will be held at St. Luke's Church from 5 to 6:30 on Sundays. There will be one presentation a week for 5 weeks with refreshments and information tables by various Ocean County organizations. You can go to only one presentation, or 2, or 3, or you can go to all five, it is up to you. Rev. Edward Reading from the Matt Talbot Institute in Toms River will be the primary presenter of these sessions which will deal with awareness of the problem and how to deal with it effectively.
The meetings are as follows: Sept. 12th: "An Intro to Addictive Science", Sept. 19th: "Dynamics of the Chemically Dependent Family", Sept 23rd Thursday: "The Matt and Max Memorial Mass", a Mass at 6:30 pm to honor those who have died from addiction during the past two years, Sept. 26th: "Stages and Patterns of Adolescent Substance Abuse", Oct. 3rd: "Substance Abuse among Military Veterans", and Oct. 10th: "How to become an Addiction Professional". Call St. Luke's for any more information you may desire. God bless us all!
Fr. Steve
---