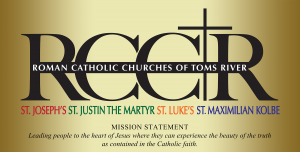 What is RCCTR? Founded in 2015 as part of the "Faith in Our Future" initiative of the Diocese of Trenton, the Roman Catholic Churches of Toms River (RCCTR) is comprised of leaders and clergy from the four Roman Catholic parishes in Toms River: St. Joseph's, St. Justin the Martyr, St. Luke's and St. Maximilian Kolbe. These four parishes serve more than 20,000 registered Catholic families in Toms River, and collaborate to find ways to strengthen our parishes, explore new models of leadership, evangelize, improve Hispanic ministry and expand opportunities for greater efficiency and better stewardship. This collaboration is key to bring greater depth and breadth of services to the community. The mission statement of the RCCTR is, "Leading people to the heart of Jesus where they can experience the beauty of the truth as contained in the Catholic faith."
Visit the websites of the RCCTR – Our Parish of Saint Maximilian Kolbe is part of Cohort 24 in the Diocese of Trenton. Our fellow cohort Parish websites are listed below.
Saint Joseph Parish Saint Justin the Martyr Parish Saint Luke Parish
---
EVENTS:
RCCTR WILL PARTICIPATE IN
"AROUND THE WORLD IN TOMS RIVER:
A CELEBRATION OF CULTURE & HERITAGE"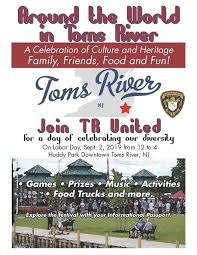 It will be held on
Labor Day,
Monday, September 2, 2019,
from 12:00 to 4:00 pm at
Huddy Park
39 E. Water Street
Toms River, NJ 08753
We will have a tent, our
banner and our smiling
faces! Come by to say hello!
---
Saturday September 7th at 10:00 am memorial mass at the tomb of the 100 aborted loveladies babies
Please join RCCTR and Ocean County Right to Life at Ocean County Memorial Park
1722 Silverton Rd., Toms River for Mass, history of the site and flower ceremony.
For more info contact Patti Tardi at 732-678-7367.
Bring a chair.
---