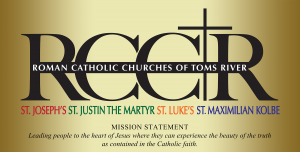 What is RCCTR? Founded in 2015 as part of the "Faith in Our Future" initiative of the Diocese of Trenton, the Roman Catholic Churches of Toms River (RCCTR) is comprised of leaders and clergy from the four Roman Catholic parishes in Toms River: St. Joseph's, St. Justin the Martyr, St. Luke's and St. Maximilian Kolbe. These four parishes serve more than 20,000 registered Catholic families in Toms River, and collaborate to find ways to strengthen our parishes, explore new models of leadership, evangelize, improve Hispanic ministry and expand opportunities for greater efficiency and better stewardship. This collaboration is key to bring greater depth and breadth of services to the community. The mission statement of the RCCTR is, "Leading people to the heart of Jesus where they can experience the beauty of the truth as contained in the Catholic faith."
Visit the websites of the RCCTR – Our Parish of Saint Maximilian Kolbe is part of Cohort 24 in the Diocese of Trenton. Our fellow cohort Parish websites are listed below.
Saint Joseph Parish Saint Justin the Martyr Parish Saint Luke Parish
---
EVENTS:
Hello,
You are invited to the following event:
7TH ANNUAL HEALTHCARE PROFESSIONALS MASS 10/18/20

Event to be held at the following time, date, and location:

Sunday, October 18, 2020 at 2:00 PM (EDT)

St. Luke's Roman Catholic Church
1674 Old Freehold Road
Toms River, NJ 08755
View Map

St. Luke Roman Catholic Church of Toms River is proud to announce the seventh annual Healthcare Professionals Mass to be held on Sunday, October 18, 2020, at 2:00 pm. This special blessing and mass will be for all medical field professionals from doctors, chiropractors, physical therapists, nurses, technicians, and medical assistants to reception staff members in the industry. Traditionally called a "White Mass," the name refers to the white coats worn by doctors and other medical care practitioners.
"We are so proud of this annual tradition at our parish," said St. Luke's Healthcare Professionals Mass coordinator June Chu. "The Healthcare Professionals Mass is a special celebration for all who attend, and given the pandemic crisis that has overwhelmed the medical community this year, it is so important to pray for and bless our healthcare heroes on this day."
The mass will take place at St. Luke's RC Church, 1674 Old Freehold Road, Toms River, NJ 08755. Healthcare workers of all faiths are welcome to attend this celebration.
If you are interested in finding out more information about this event, or other special events or groups at St. Luke, please visit our website at https://stlukestomsriver.org/.
Thank you for sharing this information with others or on social media. We hope to see you at this Mass.